I'm Kelsey from VanillaJoy.com and this Christmas I'm really trying to adopt the old "less is more" adage. For the craft I'm going to share today, that means reusing what you already have to make some beautiful Christmas decorations.  CANNING LID CHRISTMAS ORNAMENTS 

  What You'll Need... 
canning lids (preferably used)
spray paint
glitter
glue
stencil/pattern
acrylic paint
ribbon
hole punch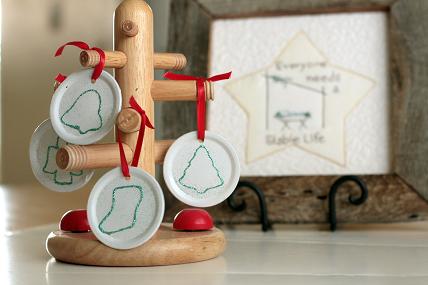 1. Spray paint canning lids. 2. Decorate by painting with acrylic or using glitter. I traced mini cookie cutters to get the holiday shapes I wanted, traced my pencil marks with glue, and sprinkled with glitter. You could draw freehand or use vinyl shapes as well. 3. Punch hole in top of canning lid. 4. Thread ribbon through, tie a knot, and hang. This is a craft that your kids can definitely help with and it will turn some of your trash into treasure. Happy holiday crafting! Visit VanillaJoy.com for tips, tricks, and crafty tutorials. You can also visit Vanilla Joy on YouTube.